If you are saving for a long-term goal, it can feel like you have to miss out on things such as travel to keep your savings on track. That's not necessarily the case, it is possible to have a fantastic holiday without breaking the bank or derailing your savings plans.
Let's face it, cost of living pressures are being felt everywhere in our day-to-day budgets but even more so when it comes to things like flights and accommodation. While airfares have fallen from the historic highs experienced in early 2023, they are still pretty pricy, and with booming demand for accommodation, comes equally high prices.
If you want to get away for a holiday but don't want to break the budget, here are some ideas to help you keep costs down when you travel.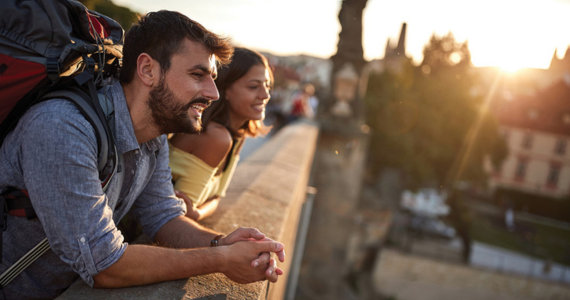 Plan ahead for the best deals
While it's lovely to head out of town on a whim, being spontaneous can be expensive. The sweet spot for international travel according to Skyscanner's data is 22 weeks in advance but be aware that it varies from city to city. For domestic travel it's also best to be prepared as the best bargains can be had 21 weeks in advance.i
Flights are often more expensive around school holidays and different destinations are pricy for both flights and accommodation during their peak travel times. For example, fares to Bali skyrocket during winter when Australians want to escape to tropical paradise, but if you head to Bali during the wet season from October to March you may be able to access to great deals, if you don't mind a bit of rain.
Keeping accommodation costs down
Once you've got flights sorted it's time to think about accommodation and if you think booking a place to stay for a holiday has gone up over the past few years – you would be correct! Airbnb has released figures showing the cost of short-term stays has gone up 35% in the past three years.ii
To keep costs down you might want to consider housesitting – either informally through friends or family, or through online services that enable hosts and guests to make arrangements. Aussie House Sitters claim to be "the largest, most trusted house-sitting website in Australia."
Volunteering in Australia or abroad also provides access to free accommodation, and the joy of knowing you are helping a worthwhile cause. Free Volunteering is one of several sites that offer opportunities ranging from teaching English overseas, to helping out at a hobby farm or hostel in exchange for free board.
You might also consider a working holiday, with jobs ranging from picking fruit in Cairns or serving tables in Bondi to earn money while enjoying a bit of a change of scenery. Check out Working Holiday Jobs.
Hit the road for a budget holiday
You could also avoid airfares and accommodation altogether and head out on the road to explore your own backyard. Camping can be an inexpensive way to see the country and while the cost of all the equipment you need may be intimidating, embrace the sharing economy and check out sites where you can borrow a range of stuff from tents to stoves, or ask friends if you can borrow their gear.
Getting away in a campervan has never been more popular, but when customers only want a one-way rental, it provides opportunities for bargain hunters as rental firms will offer discounts for vans to be relocated from city to city. If it works in with your itinerary it can be an affordable way to get from "A" to "B".
Finally, it's easy to get carried away when you are on holiday and break the budget, so it's a good idea to not only plan your break and develop a budget you are comfortable with but also check in from time to time during the trip, to see whether you need to tighten the belt a little or can afford to lash out on that great restaurant you just spotted.
With a bit of planning, you can come back with incredible memories AND a healthy bank balance!
i https://www.skyscanner.com.au/bttb/best-time-to-book-au
ii https://www.marketwatch.com/story/airbnb-executives-want-average-prices-to-come-down-after-years-of-increases-62079068