These days, most people hold some form of life insurance in their super account. While this is a welcome safety net, the level of cover held this way is often inadequate.
A Rice Warner study back in 2020 found that life cover within superannuation only met about 65-70 per cent of actual need.i
With the impact of Covid since that time, that figure is growing.ii
Holding the appropriate level of life insurance, whether inside or outside super, and reviewing it regularly as your circumstances change has never been more important. After all, how would your family cope if the unexpected happened? How would the mortgage be paid? What about the school fees?
While life insurance should be considered a non-negotiable part of your financial plan, there is flexibility and potential cost savings in the way you pay for it.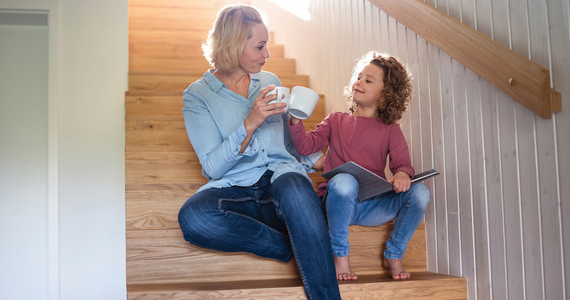 Stepped vs level premiums
The regular and ongoing payments you make for life insurance cover are known as premiums. 
You can choose either a stepped premium, a level premium, or a combination of the two.
A stepped premium is where the amount you pay each year increases while a level premium generally stays the same each year.
While stepped premiums are always cheaper at the outset, over time the total cost of the stepped premium will outstrip that of the level premium. Ironically, the time when you consider cancelling the policy because it is becoming too expensive is likely to be just when you need life insurance cover the most. That is when the demands on your income from your mortgage, childcare and private school fees are at their highest and the loss of your income would hurt the most.
Level premiums meanwhile start at a higher level but are less likely to change over time. That does not mean they won't increase but this would only be in circumstances where the policy is indexed to inflation or if you decide to increase your cover.
The earlier, the better 
The younger you are when you take out a life insurance policy, the lower the premiums. This is the case whether you opt for stepped or level payments.
Say you are a male non-smoker seeking $1 million of life insurance cover. When comparing stepped and level premiums, it is estimated that if you are aged 30 when you start the policy, a level premium is about 60 per cent more expensive than a stepped policy at the outset. This jumps to 120 per cent more if you are aged 40 when starting the policy and 170 per cent higher if you are 50.iii
But at some stage, there will be a breakeven point where you start to make substantial savings with a level premium. This is particularly the case if you hold on to the policy till age 65.
If you take out a policy at aged 30, then you will break even after 23 years. If you hold on to the policy for another 12 years until you are 65 then your savings over that 35-year period would be $58,700. This drops to a $46,000 saving if you take the policy out age 40 and a much smaller $10,000 if you wait until you are 50. Nevertheless, $10,000 is a decent sum of money to save.iv
It's a personal decision
There are many reasons why you might choose a level premium, not least because it allows you to have certainty when it comes to budgeting.
But for many, the lure of cheaper premiums at the beginning can steer you to favour stepped premiums. Also, if you do not plan on holding life insurance for an extended period, but perhaps just until your children become independent or the mortgage is paid, then stepped premiums might work out best. 
Some insurers can offer you a combination of stepped and level premiums which might help with your cash flow.
If you would like to know more, or would like to discuss your life insurance needs, give us a call on Ph: 0402 454 467.

i https://www.insurancenews.com.au/life-insurance/super-reforms-reveal-scale-of-underinsurance
ii https://www.choosi.com.au/life-insurance/articles/do-australians-have-enough-insurance
iii https://www.insurancewatch.com.au/stepped-vs-level-premiums.html
iv https://www.insurancewatch.com.au/stepped-vs-level-premiums.html
Important: This provides general information and hasn't taken your circumstances into account. It's important to consider your particular circumstances before deciding what's right for you. Although the information is from sources considered reliable, we do not guarantee that it is accurate or complete. You should not rely upon it and should seek qualified advice before making any investment decision. Except where liability under any statute cannot be excluded, we do not accept any liability (whether under contract, tort or otherwise) for any resulting loss or damage of the reader or any other person.
Any information provided by the author detailed above is separate and external to our business and our Licensee. Neither our business nor our Licensee takes any responsibility for any action or any service provided by the author. Any links have been provided with permission for information purposes only and will take you to external websites, which are not connected to our company in any way. Note: Our company does not endorse and is not responsible for the accuracy of the contents/information contained within the linked site(s) accessible from this page.