Buying a house is an exciting time. These steps will smooth your way through the house buying process.
1. Save for a house deposit
The first step is to get your finances sorted. Do a budget to identify how much you can afford to save for your deposit.
Next, do some house price research. Getting a general idea of house prices helps you set a goal to work towards. A great savings goal for a house deposit is 20% of the purchase price, plus enough to cover buying costs (see steps 5 and 6, below).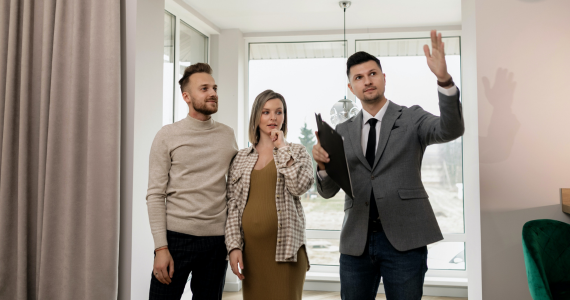 2. Work out what you can afford to borrow
Everyone's situation is different. How much you can afford to borrow depends on your:
income and financial commitments

house deposit, plus any other savings

credit score and credit report
Be realistic about what you can afford. Mortgage interest rates are on the rise, so give yourself some breathing room.
Work out your home loan repayments and compare different rates.
3. Find the best home loan rate
When looking for a good deal on a home loan (mortgage), the interest rate matters. A home loan is a long-term debt, so even a small difference in interest adds up over time.
Compare home loan rates
Contact at least two different lenders to get loan options personalised for your situation. A rate even 0.5% lower could save you thousands of dollars over time. 
Get help if you need it
With many lenders to choose from, you may decide to get a mortgage broker to find loan options for you. Contact us to find out more.
Get pre-approval to buy
Consider getting loan pre-approval from a lender. They'll ask for evidence of your current financial situation to assess your ability to repay the loan. Pre-approval lasts for 3–6 months and shows you're eligible to apply for a loan up to a certain amount. It doesn't commit you to a loan. It lets you set an affordable price range, and tells sellers you're serious about buying.
4. Find a house to buy
Find a balance between the lifestyle you want and what you can comfortably afford.
Know why you're buying
Reflect on why you want to buy. Are you planning to grow your family? Do you want to renovate? If you're buying with a partner, talk about this together. Being clear about why you're buying helps narrow down your property search.
Consider your must-haves and nice-to-haves
Make a list of your:
'must-haves' (can't do without), e.g. property size, layout, public transport, schools

'nice-to-haves' (could do without for now), e.g. design, fittings, outdoor space
Focusing on your must-haves will help you prioritise the things that matter most.
Stick to your price range
If you've been pre-approved for $500,000, don't waste time looking at properties advertised at $600,000. If your ideal suburb is outside your price range, keep an open mind about where to look.
Do your research
Look online, talk to real estate agents, go to property inspections and explore what's on offer. Pace yourself — your search could take months.
5. Negotiate to buy your house
Finding a house you love is thrilling. It's easy to get carried away by your emotions. Stick to your budget, and be as clear-headed as possible when bidding or negotiating to buy.
Auction or private treaty
If you're a first home buyer, observe a few auctions so you understand how they work. Bring an experienced friend or family-member along to help you bid. Or consider hiring a buyer advocate to help with the buying process.
If buying at auction, expect to pay a deposit immediately (for example, 10% of the purchase price). There's no cooling-off period if you buy at auction.
If buying privately, the contract of sale will include the deposit amount and when you need to pay it. There's a short cooling-off period in most states and territories. You can usually get out of the contract and get most of your deposit back if you give written notice.
Contract of sale
The seller (vendor) of a property will prepare a contract of sale. As a potential buyer, first inspect the property and talk to the real estate agent or seller. Then, ask to see the contract of sale. Get help from a solicitor or conveyancer to review the contract before signing. Paying a legal expert is the best way to avoid costly mistakes.
Building and pest inspection
Once you've found a property you like, get a building and pest report done by a professional:
building inspection — structural issues, damp, electrical safety, cost of maintenance or repairs

pest inspection — termite activity, other pest issues
This could save you a lot of money down the track.
Make an offer
When you're ready, there are two ways of making an offer:
unconditional — a binding contract to buy outright, if you have confirmed finance and are sure about the property

conditional — becomes a binding contract to buy, if certain conditions are met (e.g. valuation, finance approval, inspections)
Finalise your loan
Tell your lender you've found a property you wish to buy, and apply to finalise your loan.
6. Settle on your new home
You're on the home stretch now, with a few more costs to take care of before you can move in.
Settlement
The settlement date is when the property title is transferred into your name, and your mortgage begins. The contract of sale sets out the settlement period, when you have to pay the full purchase price. Your solicitor or conveyancer will finalise the settlement with the lender and seller. Then you'll get the keys to your new home.
Stamp duty
Stamp duty is a one-off state government property-transfer tax. You typically need to pay this within 30 days of settlement.
Find out how much you have to pay by using one of these calculators:
If you're a first home buyer, check if you're exempt from stamp duty or entitled to a rebate or concession.
Home and contents insurance
Protect your home and contents against damage or loss. This may be a condition of your home loan. 
Stay on track with your repayments
Finally, update your budget with your mortgage repayments, plus ongoing costs like council rates and land tax (when known). Extra expenses may take time to get used to, so keep an eye on your spending for a while.
Source:
Reproduced with the permission of ASIC's MoneySmart Team. This article was originally published at https://moneysmart.gov.au/home-loans/buying-a-house
Important note: This provides general information and hasn't taken your circumstances into account.  It's important to consider your particular circumstances before deciding what's right for you. Although the information is from sources considered reliable, we do not guarantee that it is accurate or complete. You should not rely upon it and should seek qualified advice before making any investment decision. Except where liability under any statute cannot be excluded, we do not accept any liability (whether under contract, tort or otherwise) for any resulting loss or damage of the reader or any other person.  Past performance is not a reliable guide to future returns.
Important
Any information provided by the author detailed above is separate and external to our business and our Licensee. Neither our business nor our Licensee takes any responsibility for any action or any service provided by the author. Any links have been provided with permission for information purposes only and will take you to external websites, which are not connected to our company in any way. Note: Our company does not endorse and is not responsible for the accuracy of the contents/information contained within the linked site(s) accessible from this page.